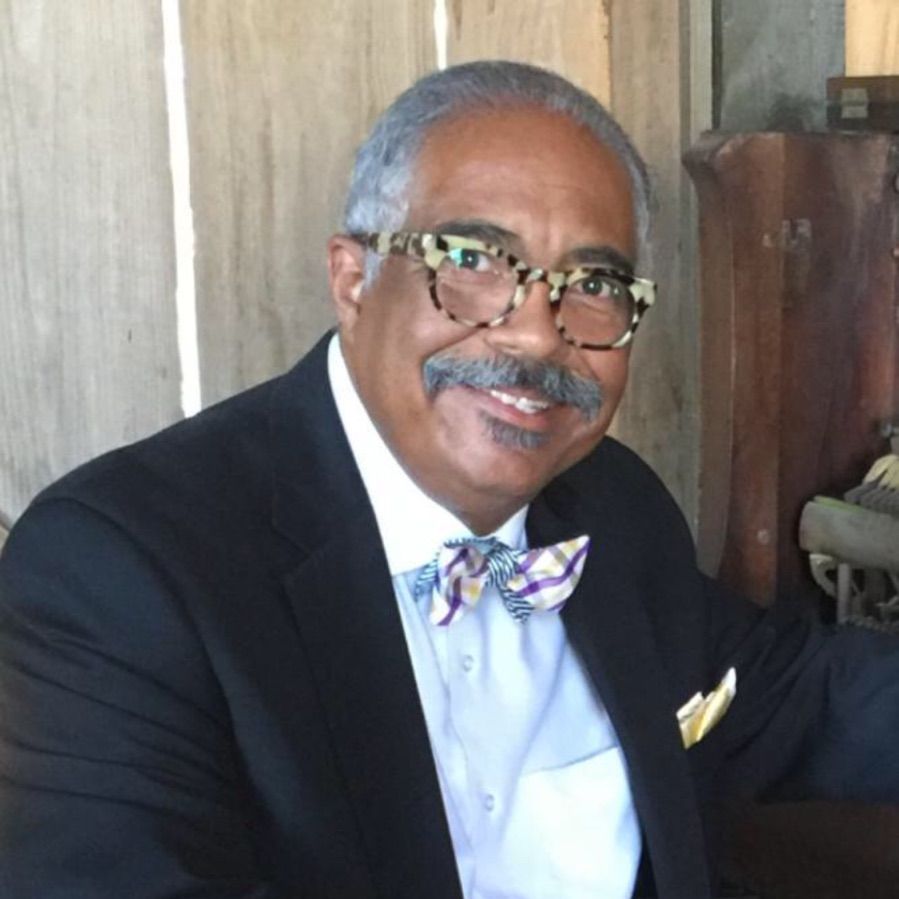 Biography
RICKIE B. MONIE, SR.
Rickie was born February 4, 1952 in New Orleans, Louisiana.
Rickie's interest in the piano sparked at the age of eight years old.   Initially his father, Harrison, who played in the church, taught him the basics.   Later, he received private lessons.  Following in the footsteps of his father, his musical career began in church and by age thirteen was a salaried musician at Paynes Memorial AME Church. 
Years later, Rickie met and played with many of the old New Orleans Jazz Masters including, Manny Sayles, Percy and Willie Humphrey, Harold "Duke" Dejan, Milton Batiste, Clarence "Frogman" Henry and Dave Bartholomew, to name a few.
While studying music at Dillard University, Rickie majored in woodwind instruments and loves to play the clarinet.  He was also instructed in classical piano and organ and this continues to be his main focus as he picked up work in every style of music from gospel, jazz, bluegrass, rock and others.
In 1982, Rickie received a call from Preservation Hall to substitute for the legendary resident pianist, Sweet Emma "The Bell Gal" Barrett after she suffered a stroke.   To the delight of audiences everywhere, Rickie continues touring with Preservation Hall. 
Rickie is a consummate performer and tours all over the world.  He shares the music he loves so much, gospel and traditional jazz by dazzling audiences on five continents with his musical style.  He has performed for five U.S. Presidents; George W. Bush, William "Bill" Clinton, George H. Bush, James "Jimmie" Carter and Gerald R. Ford, Queen Elizabeth of England and five Kings of Africa.  Additionally, Rickie has performed for and played with His Majesty, King Bhumibol Adulyadej of Thailand on six different occasions.  Recently, he performed and recorded a CD with Her Royal Highness Princess Maha Chakri Sirindhorn of Thailand.  
Recently, Rickie was recognized for his distinguished career and accomplishments in music as a Steinway Artist by Steinway & Sons Piano Company. 
One of Rickie's most prized accomplishments was when he played with Conductor Marvin Hamlich at the Kennedy Center and the nine foot concert grand piano was rolled onto the stage during the middle of the concert and he was asked to play it.  Afterward, Mr. Hamlich asked him to autograph the harp.  Rickie is one of a very few world-renowned pianist given this honor.
In 2006, Rickie was invited along with other members of the Preservation Hall Jazz Band to the White House to receive the Medal of Arts Award from the National Endowment of the Arts and presented by President George W. Bush.
In 2013, Rickie had the honor of playing with Stevie Wonder at the United Nations World for Peace Concert in New York City and in January 2014 played with John Legend at a Neilsen Grammy Event.   Over the years he has also performed for other Royalty and dignitaries.
As an ambassador of music for New Orleans and the United States, Rickie continues to share his love of music with students of all ages as they seek him out to request instruction in his meticulous style of playing.  He is affectionally known as "The Professor."